Bibliography
Some very useful books related to Components, Java Programming and Security
I propose you to read the following books:
Software, distributed Systems and Security
Software Engineering
Java Programming
Component Programming
Cryptography
Software, distributed Systems and Security
Some reference books about Software, distributed Systems and Security :
Software Security - Building Security In
Gary Mc Graw
The reference book about building secure applications.
Software Fortresses - Modeling Enterprise Architectures
Roger Sessions
i
A straightforward model for interacting information systems.
Reliable Distributed Systems - Technologies, Web Services and Applications
Kenneth P. Birman
Fondamental problems and existing technological solutions for Distributed System.
Inside Java(TM) 2 Platform Security: Architecture, API Design, and Implementation
Li Gong
Fundamentals of Java 2 (TM) security
Software Engineering
The Pragmatic Programmer: From Journeyman to Master
Andrew Hunt and David
The Pragmatic Approach to Software Projects
AntiPatterns: Refactoring Software, Architectures, and Projects in Crisis
William J. Brown, Raphael C. Malveau, and Thomas J. Mowbray
Managing Software Project Crisis
Programming mobile devices : an introduction for practitioners
Tommi MIKKONEN
All you need to know to develop applications for handheld and other resource-contraint devices
Java Programming
Java(TM) Puzzlers: Traps, Pitfalls, and Corner Cases
Joshua Bloch, Neal Gafter
A comprehensive view of the strange behaviors of the java language.
Effective Java: Programming Language Guide
Joshua Bloch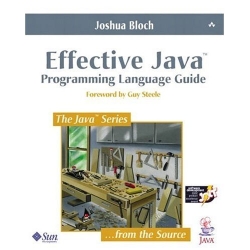 Best and Bad Practices of Java Programming.
Component Programming
Component Software - Beyond Object-Oriented Programming
Clemens Szyperski
All points of view over all kinds of components.
Component Development for the Java Platform
Stuart Dabbs Halloway
A definite component view of Java.
Cryptography
Applied Cryptography
Bruce Schneier
The Reference introductive Book to Cryptography.